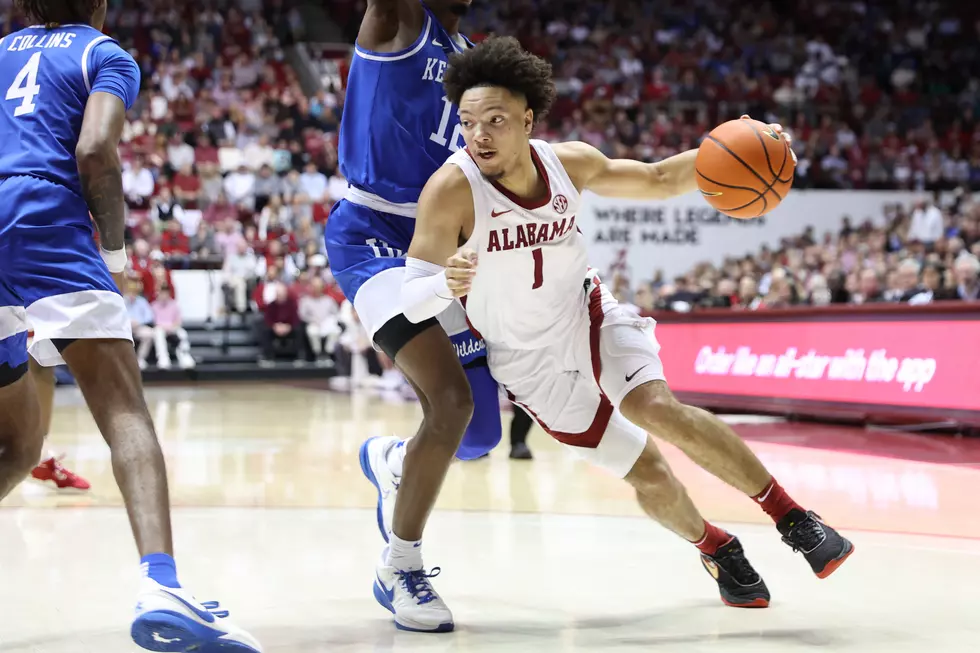 Alabama Declaws Wildcats to Stay Unbeaten in SEC Play
Crimson Tide Photos / UA Athletics
The Alabama Crimson Tide (13-2) kept its impressive basketball season going on Saturday by dominating the Kentucky Wildcats (10-5) 78-52 to improve to 3-0 in SEC play. The Crimson Tide was bolstered by a raucous crowd in Coleman Coliseum and exploded in the second half, stretching an 11-point lead all the way to 31-points before ultimately claiming the 26-point win.
The Tide was able to utilize the depth on its roster to run the Wildcats off the court. Seven Crimson Tide players scored 6-points or more in the contest with freshman sensation Brandon Miller leading all scorers with 19 points.
The Crimson Tide was able to keep its turnovers down, and kept the rebounding battle close enough to allow its shooting advantage to carry them to an easy victory.
"I can't say enough about our guys, how hard they played on defense, how locked into the scouting report they were. I thought Sears was unbelievable. He got in there and made a bunch of tough plays, rebounds. I though Charles was great on Tshiebwe. You, know Kentucky's gonna be alright. They had a bad shooting night, they didn't shoot well. I thought our guys did a good job defensively, but, you know, now I'm pulling for Kentucky to get a bunch of wins at this point," said Alabama head coach Nate Oats.
"It was good, I thought we showed growth. We were up 27 against Ole Miss and let our foot off the gas, they cut it to 15 I think it was the under eight media timeout if I remember correctly we were up 27 exactly again, so I said in the huddle, 'here it is fellas, up 27, what are we going to do from here?'. We came out and pushed the lead to 31, instead of letting them get back in."
So we're learning, game to game, we've got young guys. Playing four freshman a lot of minutes. Playing new guys, transfers, whatever, a lot, but we're learning that's really all we're trying to do is get a little bit better every game. I thought we definitely got better in this game, from the Ole Miss game."
I'll say this too, the crowd was unbelievable. Students are not in schools until, I think Wednesday's the first day of class. For them to show up like they did tonight, we need great crowds like this. Obviously it helps when you win, we've been winning, but for them to show up and support us like they did, it didn't seem like there was too many open seats in there. We're trying to put a program and a product out there that everybody's proud to support and they supported us tonight so I just want to thank them for that" Oats concluded.
Alabama dominated the game's first six minutes jumping out to a quick 14-6 lead. The Wildcats dug into the lead through the first half cutting it as close as one-point with just five minutes remaining in the first half. The Crimson Tide closed the half on a 15-5 lead to take an 11-point advantage into the locker room.
The Crimson Tide, in the second half was able to get to the Charity Stripe 17 times and converted 13 of them. Additionally its pace of play hurt the Wildcats, Alabama forced seven turnovers and made 13 fast break points.
Miller, per usual, led the way for the Tide with his aforementioned 19 points, he also had seven rebounds, a block and a steal.
Mark Sears served as the second best contributor on the offensive end, but he was all over the place defensively as well. Sears tallied 16 points, with six rebounds and six steals, with four assists as well.
Super senior Jahvon Quinerly had his best game this season off the bench, he scored 12 points and had two assists with a rebound and a steal all without a turnover in 18 minutes of action.
The Crimson Tide will hit the road for its next contest against the Arkansas Razorbacks. The Tide takes on the Razorbacks in a clash of SEC West powers on Wednesday, Jan. 11 at 6 p.m. CT.
Bama Beats Kentucky to Stay Perfect in Conference Play
No. 7 Alabama took down RV/No. 25 Kentucky, 78-52, to move to 3-0 in SEC play.
More From Fox Sports 1510