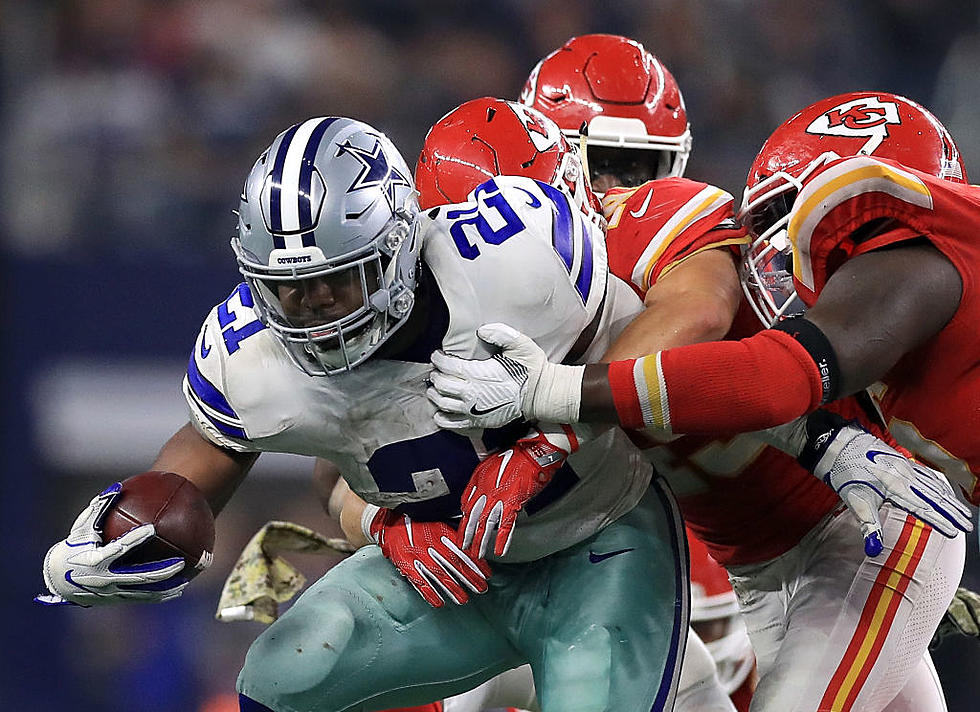 Cowboys VS Chiefs–A Midland Odessa Workplace Divided
Getty Images
It had to happen eventually. I knew when I took this job that the day would finally come where I would be on my own in the office at the end of the hallway. That day is this Sunday, as the 7-2 Dallas Cowboys head to Kansas City to take on my Chiefs at 3:25 PM. It seems to be a new day for the Cowboys organization, coming off last season which didn't find many fans overly excited coming into this year. But it's a whole new day 5 hours down I-20 from the Permian Basin at AT & T Stadium. Dak is back and ready for the attack on the field-and his teammates are just as ready. Ah-but they haven't run into the Patrick Mahomes buzz saw yet......
The smack talk in the hallway here at the stations hasn't started yet-but it's still early in the week. I have been asked how I became a KC fan. A legitimate question, given the successes the team has had, with five straight division titles from 2016-2020, as well as the past two Superbowl appearances to name a few. There are many I run into who want to immediately assume because I live in West Texas, I'm a bandwagon fan. Even with the Patrick Mahomes/Texas Tech connection, they think that way. However--I lived in Kansas in 2011 thru 2013, and that's when it happened for me. Romeo Crennel was Head Coach my first season as a fan, and Matt Cassel was the team's Quarterback. The following season the team would go 2 and 14, only beating the Saints and the Panthers that year.... So it was a brutal introduction to my team but as a fan, you're in it and rooting, win or lose.
Sunday will be interesting--The Cowboys are on their game, and the Chiefs are "righting the ship" after a shakey first half but seem to have it together going forward. Either way--Sunday will certainly be a Funday!
TACKLE THESE: Check Out the Best Uniforms In Each NFL Team's History
30 famous people you might not know were college athletes
Stacker
dug deep to find 30 celebrities who were previously college athletes. There are musicians, politicians, actors, writers, and reality TV stars. For some, an athletic career was a real, promising possibility that ultimately faded away due to injury or an alternate calling. Others scrapped their way onto a team and simply played for fun and the love of the sport. Read on to find out if your favorite actor, singer, or politician once sported a university jersey.
More From Fox Sports 1510