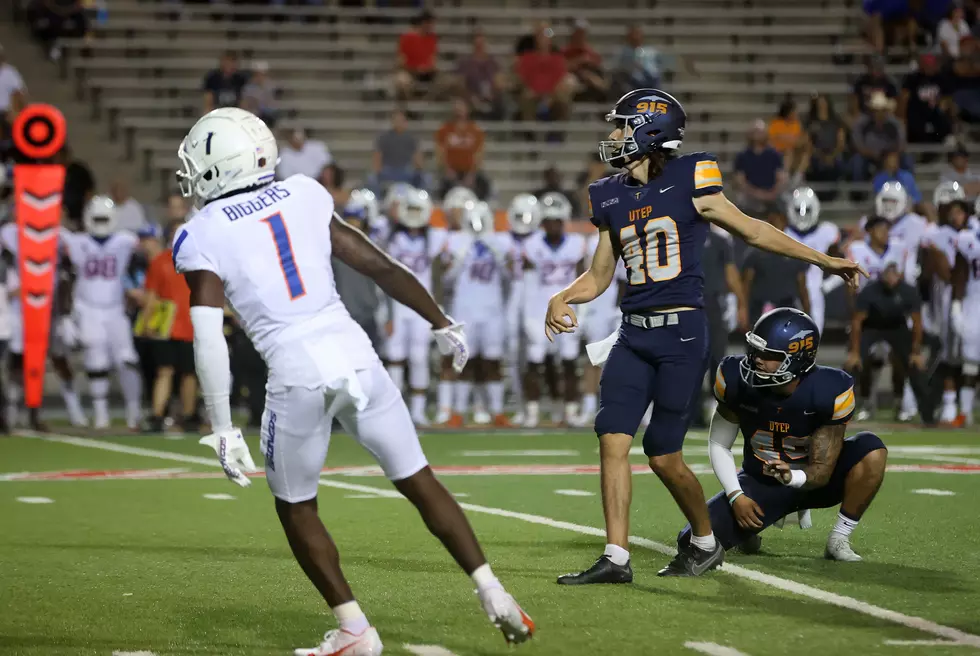 UTEP Kicker Gavin Baechle Snubbed From Lou Groza Award Finalists
Ruben R Ramirez
Gavin Baechle was not just good, he was great. Exceptional. The senior kicker for UTEP converted a school record 22 straight field goals and also every extra point this season. His 22 straight made field goals led the nation this year. Shockingly, Baechle's name was left off the list for the Lou Groza Award final 3 that was revealed today, which is presented annually to college football's top place-kicker by the Palm Beach County Sports Commission.
Miners fans are not the only people that were stunned by Baechle's omission. Graham Gano, the veteran kicker who is currently with the New York Giants tweeted out his surprise when he heard the news.
The three kickers that were included for the Groza Award all play at Power 5 programs. NC State's Christopher Dunn made 24-25 field goals and all 30 extra points this season. Stanford's Joshua Karty made all 18 of his field goal attempts and 24 out of 25 extra points. Michigan's Jake Moody converted 26-32 attempts and all 53 extra points for the Wolverines.
As for Baechle, he made 22 out of 24 attempts, including 22 straight kicks after missing his first attempt of the season against North Texas. He was also 2-3 from 50+ yards, with his only other miss coming last Saturday against UTSA. Not only was he Mr. Automatic for the Miners, but he finished his career as the school's all-time career leader in field goal made and he now owns the longest consecutive streak in school history.
I understand that 2022 is a deep year for top kickers in college football. That being said, Karty's 18 total field goals is well short of the attempts that the other finalists and Baechle converted on. Moody's inclusion is also a little suspect since he did miss six attempts this season.
Even though Baechle will not add the Lou Groza award to his trophy collection, he will leave UTEP as the program's most decorated leg and hopefully he gets an opportunity to follow in Chris Jacke's "foot"steps.
All The Big Moments From UTEP Football's Win Over Bethune-Cookman
The UTEP Football team defeated Bethune-Cookman 38-28 last Saturday night to start the 2021 college football season with a 2-0 record for the first time in 16 years.
More From Fox Sports 1510