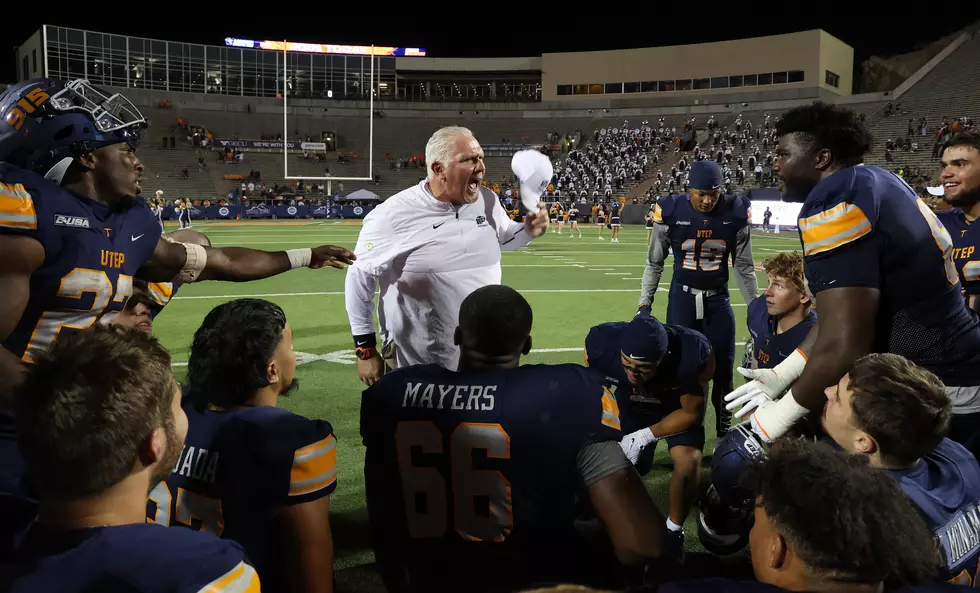 Things Are Quiet As UTEP Football Prepares For FAU Tomorrow
Ruben R Ramirez
For the first time all season, the UTEP football team has had an extra week of rest. The Miners finally entered their bye week after playing seven consecutive games starting in the last week of August. Head coach Dana Dimel is ready for his team to get back on the field and that will happen tomorrow afternoon at 2 p.m. when the Miners host Florida Atlantic.
"We went through the first seven weeks, which is really a long, strenuous stretch for our football team magnified by the fact that we started off on July 27th," Dimel sais at his weekly press conference. "I think (that) is when we reported and went seven straight weeks and had some really tough contests and opening up with a conference game. Those two back-to-back road games leaving the state definitely was a difficult task for our football team. And so, I speak about that because I think our team needed (the bye)."
As UTEP prepares for their home game in a month, the team still has a ton to play for. The Miners are 3-4 and they need to win at least 3 of their last 5 games in order to qualify for a bowl game. The last time UTEP went to the postseason in back to back years was all the way back in 2005 when Mike Price was the toast of El Paso. A lot has happened since, but Dana Dimel has made more progress with this program than many of his predecessors. He has built up his depth and turned the Miners into a much more competitive team on a week to week basis.
Despite their slow start, the Miners had won a pair of games against Boise State and Charlotte before they stumbled against Louisiana Tech. Now, they start a stretch of three straight games including a pair of contestants home contests against FAU and Middle Tennessee before a big road game with Rice.
The problem is that since the Miners are coming off of a loss and subsequent bye week, there is little fan buzz surrounding the team that is now past the midway point of the season. UTEP will need a big performance Saturday afternoon to get a solid crowd for MTSU next Saturday night. Coach Dimel knows that his group can still play with anyone but the fan base will need to see it in person, starting this weekend.
UTEP vs. NMSU Battle of I-10 Gallery Recap
These photos were taken Saturday, August 28th, 2021 when UTEP defeated NMSU 30-3 in the annual Battle of I-10 at Aggie Memorial Stadium.
More From Fox Sports 1510