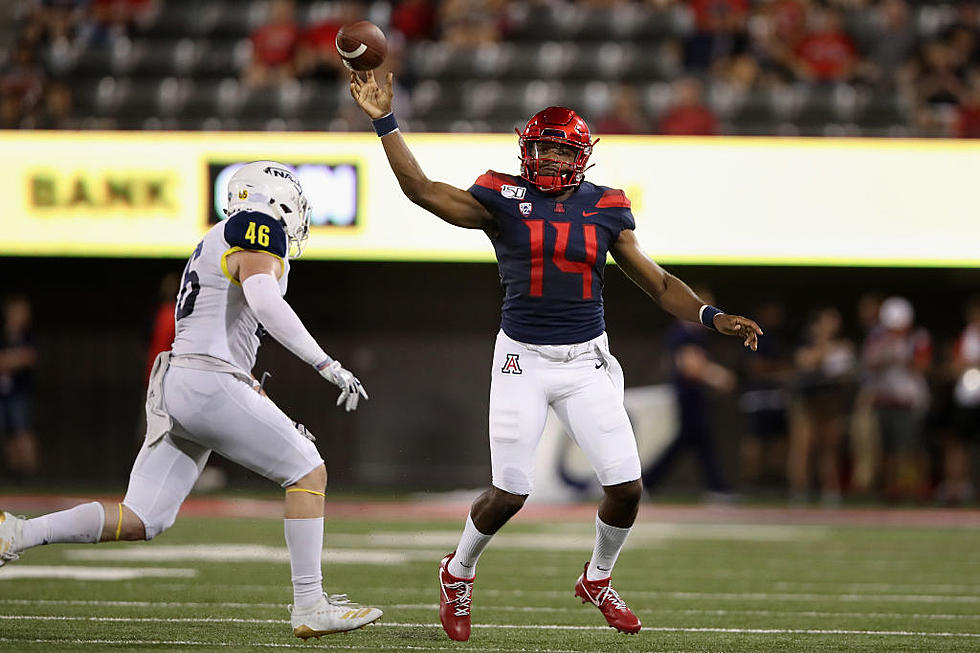 Get to Know Texas Tech's Opponent: Arizona
Christian Petersen/Getty Images
Matt Wells and the Texas Tech Red Raiders will take their first road trip this week as they head to Arizona to face off with the Wildcats in their first Power 5 battle.
Both teams have faced lackluster competition.
The Red Raiders are 2-0 against Montana State and UTEP and have given up 13 points total. The Wildcats are 1-1 and have surrendered 86 points total to Northern Arizona and Hawaii. Sure, Hawaii is known for a high-powered offense, but Northern Arizona touching up the D for 41 is problematic for Arizona head coach Kevin Sumlin and his boys.
Offensively, the Wildcats rely on QB Khalil Tate, who has regressed since being a dynamic play-maker two seasons ago.
We talked with Greg Hansen of the Arizona Daily Star, who said Tate thinks too much and unable to loosen up in the Sumlin offense. That's the opposite of another Sumlin QB, Johnny Football, but similar to all of the QBs since, including Kyler Murray and Kenny Hill, who excelled elsewhere.
Kevin Sumlin and former Texas Tech head coach Kliff Kingsbury have a lot of similarities: Offensive teams, lacking discipline, and high expectations which generally fall flat. Hansen echoed that, saying that Sumlin could barely muster 7-5 even with the talent at Texas A&M.
Hansen also hit on the Arizona defensive front, saying they haven't had a good defensive line in the last decade, and that their defensive strength lies in the back seven.
Offensively, the production will lie in the RB corps and Khalil Tate, but only if Kevin Sumlin allows these guys to take a front seat. Hansen took the over and a score of 45-42, but declined to give a winner.
Listen to the whole interview with Greg Hansen here:
Talk 1340 also went and got a Texas Tech expert to give you their opinion on Arizona. That's right, Don Williams was back on Ryan Hyatt's Raiderland to talk about Khalil Tate and gas station food. While talking about Tate, this question was posed: "Is Khalil Tate the best QB that Texas Tech will face this year?"
Williams is high on Tate and credits his health for a down year in 2018. He also compared the Arizona squad to a Mahomes-era Texas Tech team. Sure, they have a dynamic weapon at QB, but they're also going to give up as many yards most nights.
Listen to the whole Don Williams interview here:
But wait, there's more!
David Collier also joined Ryan Hyatt's Raiderland to talk about the weekend's matchup. Collier and Hyatt talked about the Red Raiders playing in the Arizona heat and starting the game at 9:30 p.m.
More From Fox Sports 1510