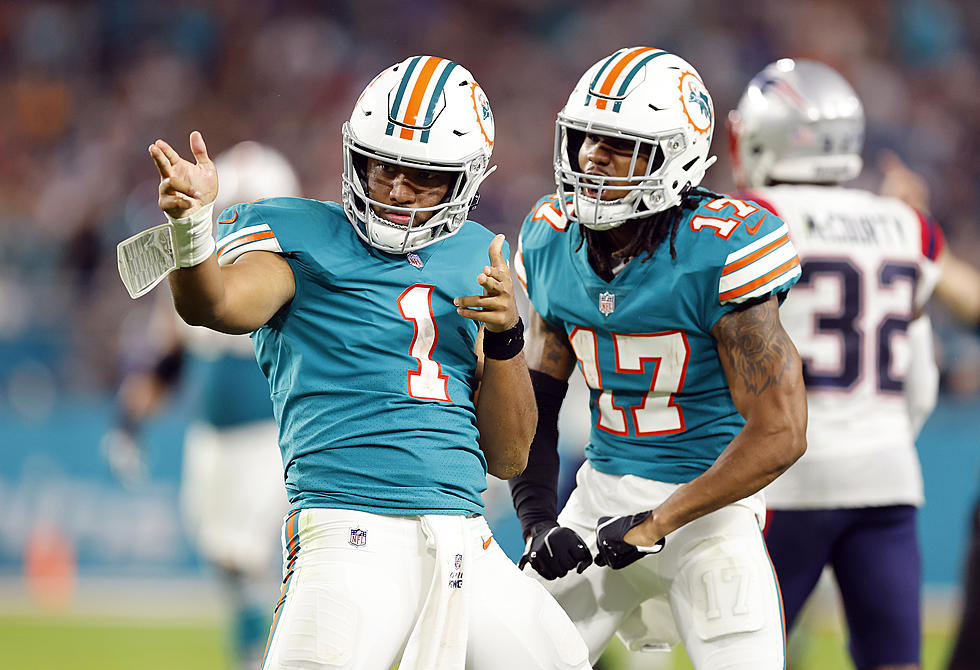 Could It Finally Be Tua Time?
Getty Images
"I don't know about you but that looked like money."
Those were Miami Dolphins quarterback Tua Tagovailoa's words to reporters after the quarterback threw a 60-plus yard bomb to hit newly acquired wide receiver Tyreek Hill in stride during Saturday morning's practice.
The Alabama football legend is going into his third year with the Dolphins and it has all the makings of a make or break year for Tagovailoa.
Entering the league coming off of a hip injury that many thought could keep the quarterback from ever playing again, Tagovailoa has struggled to rekindle the flame that propelled him to be the Dolphins fifth overall pick in 2020.
After a so-so rookie season surrounded by a bad supporting cast, the rumblings began that Tua may, in fact, be a bust.
The Dolphins saw a rookie they passed on, in Justin Herbert, light up the league and set the rookie passing touchdown record in 2020, and in 2021 they saw Joe Burrow lead the Bengals to the Super Bowl in his second year.
As a team the Dolphins had some success in the 2020 and 2021 seasons, but Tagovailoa's production and tape left a lot to be desired, and after the 2021 season many fans around the country began to call for Tagovailoa's neck.
Critics began to spew harsh reviews of Tagovailoa's play, brutally attacking the quarterbacks arm-strength and decision making, many expected the Dolphins to trade for a proven veteran this past off-season.
Instead, the team doubled down, trading for star receiver Tyreek Hill from the Kansas City Chiefs to pair with rookie sensation Jaylen Waddle, and signing Pro Bowl left tackle Terron Armstead to shore up the offensive line - displaying the utmost confidence that Tagovailoa could be the franchise quarterback they believed he was when they drafted him two years ago.
So far the Dolphins' decisions have paid off.
During OTAs Hill told reporters "Tua actually has one of the prettiest balls I've ever caught him in my life... Tua is a very accurate QB." -  "I'm very confident in my QB… the sky is the limit for that guy. Heck of a talent. Has crazy arm strength, arm talent."
Hill has also praised the quarterback extensively on his podcast, and now we see that it may have been more than just a farce.
Keep in mind that it still early in training camp; however, what Tagovailoa displayed on Saturday alone already has a lot of critics eating their words, as no noodle armed quarterback is hitting Hill 60-yards downfield in stride.
There is still a long way to go before week one, but the Dolphins should be excited about what the early returns have been.
And for Tagovailoa, the quarterback has reiterated many times he does not listen to the rumblings, he knows that all there is left is for him to go out there and prove it.
Nick Saban's Coaching Tree: Where Are They Now?
Alabama Crimson Tide All-Time Passing Leaders
The 2021 season is in the books and after Bryce Young's Heisman campaign, the all-time passing leaderboard requires an update.
2021 SEC Championship Game Alabama vs. Georgia
The Alabama Crimson Tide defeated the No. 1 ranked Georgia Bulldogs 41-24 to win the 2021 SEC Championship.
More From Fox Sports 1510