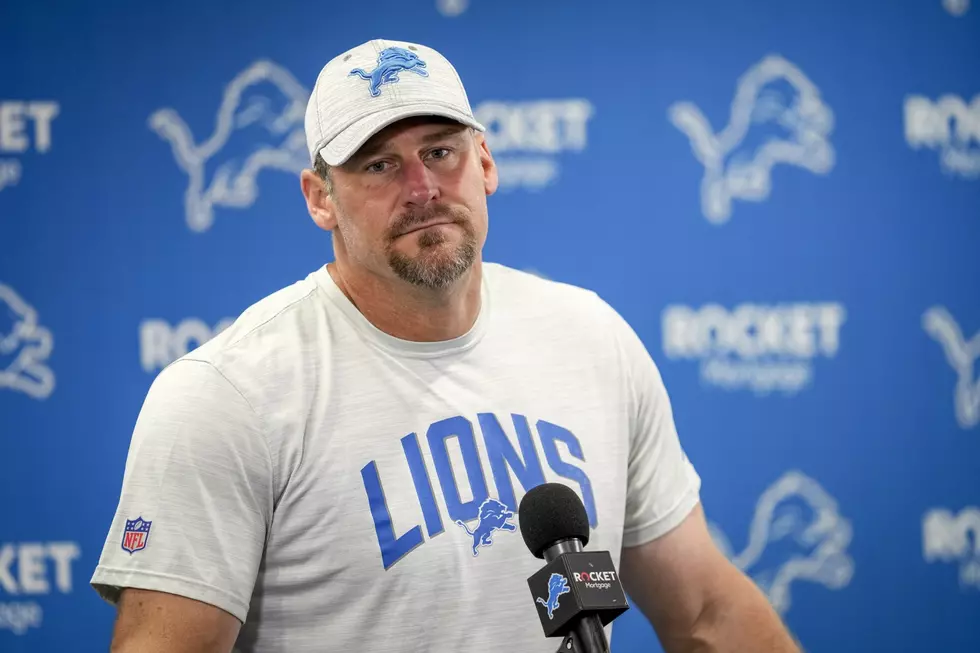 Y'all Need To Chill About The Detroit Lions!!!
Getty Images
It didn't take very long for the Twitter love to take full effect during (yes, during) Tuesday night's season premiere episode of HBO's "Hard Knocks".  Which, this year, is featuring you gridiron heroes, the Detroit Lions.
Now, I don't get HBO.  But thanks to Twitter, I saw the clip of Aidan Hutchinson singing Michael Jackson's "Billie Jean" on Wednesday morning.  And yes, it was pretty strong.  And I saw some of the verbal rhetoric that head coach Dan Campbell (pictured above) had during the episode.  Yep, that was pretty good, too.  But....
Y'ALL ARE DRINKING THE HONULULU BLUE & SILVER KOOL-AID AGAIN!!!!  And I ain't falling for it again!!
Seeing all the positive feedback that the Lions are getting just from this one episode (thanks to social media), you would think that the Lions are headed to the Super Bowl.  Fans are ready to buy playoff tickets NOW!!
Don't you guys (and ladies) know what team you're talking about?  These are the Lions!  You know, the team that's won ONE playoff game since they won the NFL title in 1957?  You know, the team that has figured out how to lose games in almost every way possible for generations?
Well, I'm not falling for it.  Not this time.  They were 3-13-1 last season, the second-worst record in the NFL.  And while they look improved on paper, I've got to see it on the field before jumping on the bandwagon.  Until further notice, they are SOL (Same Old Lions).
And I don't want to hear "This is the Year", if they beat both Philadelphia and Washington at home in the first two weeks of the season to start 2-0.  You know fans will go crazy (to say the least) if that happens.  Remember, they play Green Bay twice.  They play Buffalo on Thanksgiving Day.  They visit New England and Dallas.  They're not winning all of those games!
I don't want to sound doom and gloom, I think they'll be better this year.  But the wild optimism with this team from fans and media (national and local) is unwarranted.  THESE ARE THE LIONS!  As the saying goes, they could screw up a two-car funeral.
Call me after the Week 10 game at the Chicago Bears.  If they are around .500 or better, then we'll re-evaluate.
But you guys need to calm down with all the Lions love, jeez!
12 Burning Questions With The Detroit Lions In 2022
More From Fox Sports 1510