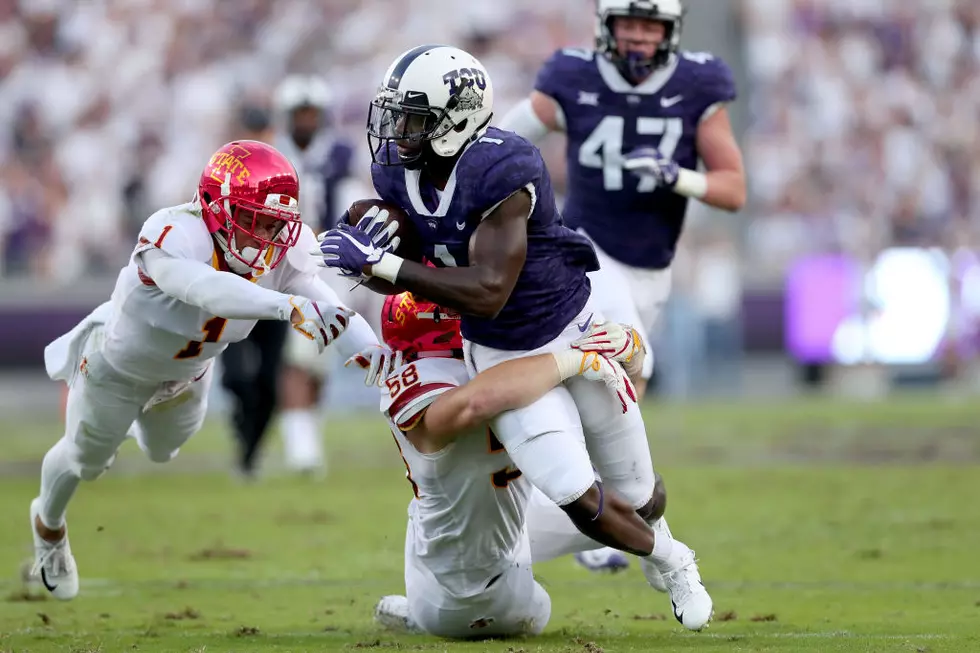 The Rob Breaux Show's Big 12 Preview: Texas Christian University
(Photo by Tom Pennington/Getty Images)
Texas Christian University
HC: Gary Patterson | CO-OC: Sonny Cumbie, Curtis Luper | DC: Chad Glasgow
Most Likely 2019 RECORD - 6-6
2018 is a year that Gary Patterson wants to erase from existence. What started as a season with depth and a ton of promise, depending on who you asked, never got off the ground due in equal parts to bad quarterback play, bad play calling and a ton of injuries. Still, despite the hiccups, the Horned Frogs found themselves in a bowl game after winning 3 of the last 4 Big 12 games following a rare Big 12 loss at the hands of the Kansas Jayhawks. Yikes.
Coming into 2019 the offensive line will improve just based solely on experience with four starters returning including All-Big 12 tackle Lucas Niang. That improvement along with two returning senior RBs gives TCU some hope in the rushing attack to pair with Jalen Reagor. 
Defensively I think that you can bet on TCU to be above the mean in the Big 12. Even with injuries in 2018 the TCU defense held teams to 23 points per game and held three Big 12 teams to 14 points or less. The problem is that Garret Wallow is the lone returning star from the linebacker and safety units that plays such a vital role in the Gary Patterson defense. Even so, the assumption could be made that the defense will be solid once again. 
Taking into account the fact that TCU has key contributors trying to bounce back from injuries on both sides of the ball which makes depth an issue the Horned Frogs take a decent starting lineup into 2019. If they deal with injuries again all bets are off, but if they can stay healthy-ish the Horned Frogs could be in line for 7 or 8 wins. 
Of course, they'll have to find a quarterback first. 

WR Jalen Reagor, HB Taye Barber, OL Lucas Niang, RB Darius Anderson, RB Sewo Olonilua
LB Garret Wallow, CB Jeff Gladney, DT Ross Blacklock, S Innis Gaines
QB Alex Delton (KANSAS ST), QB Matthew Baldwin (OHIO ST), DE Shameik Blackshear (SOUTH CAROLINA), QB Max Duggan
LB Garret Wallow, QB Max Duggan
More From Fox Sports 1510