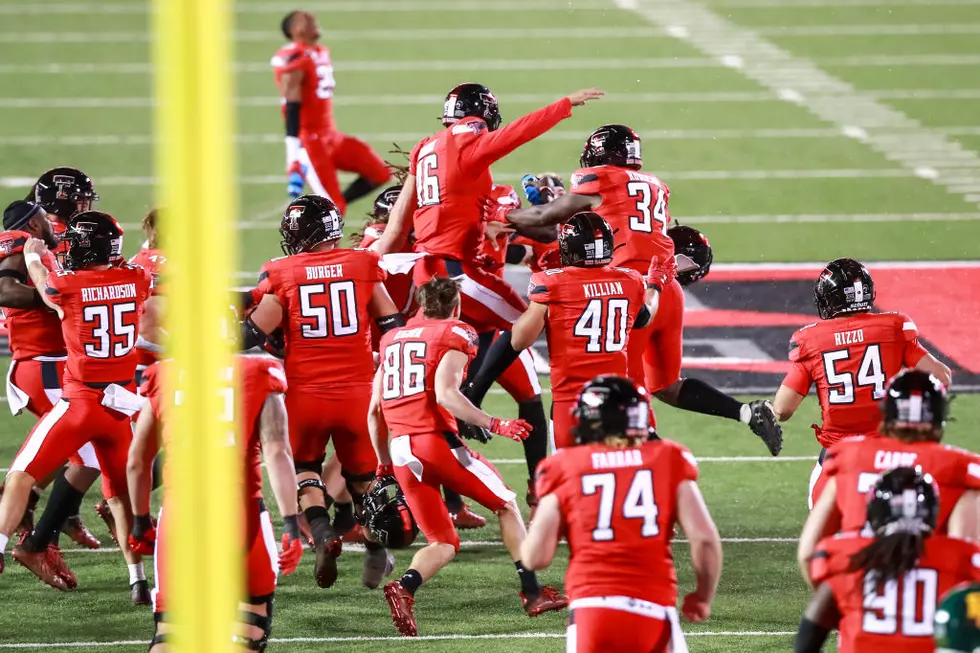 Texas Tech Kicker, Kansas Fullback Lock In NIL Deals After Magical Weekend
John E. Moore III/Getty Images
If you needed a reminder, Texas Tech's Jonathan Garibay hit a game-winning 62-yard field goal with no time remaining against Iowa State this past weekend.
Here's a refresher:
Since then, the Red Raiders kicker was named Big 12 Special Teams Player of the Week and he was also named one of the three stars of the week by the Lou Groza Award. Not only that, the Lou Groza Award for the best kicker in the nation also put Garibay into their group of semi-finalists.
The kicker with the golden leg didn't stop there, though. His week got even better, and it wouldn't have happened without a well-timed tweet the day after the game-winning kick. Garibay dropped this tweet:
A few days later, he tweeted this:
Church's Chicken has a spicy chicken sandwich, with a kick. Who knew? I didn't, until Garibay let me know on Twitter. Consider me influenced.
The kicker also has a partnership KyleLote, a local food truck straight from the mind of legendary local storm chaser Kyle Russell.
Garibay wasn't the only man to get a quick turnaround NIL deal with a national brand.
Jared Casey, the walk-on fullback from Plainville, Kansas, got his own deal after catching a game-winning two-point conversion in overtime against the Texas Longhorns in Austin.
Just remember: "You always gotta go for two."
Casey and Garibay are perfect examples of brands understanding what it means to be a NIL student-athlete. Casey's Applebee's commercial has been seen nearly a million times and took three days to plan, shoot, produce and send to the masses.
The Garibay deal is the same way. The NIL is here to stay, and I hope we get more beautiful partnerships for guys who would likely wouldn't have been paid or gotten deals otherwise.
Texas Tech Fans Rush the Field After 41-38 Iowa State Win
Highlights: Texas Tech vs Iowa State
The Texas Tech Red Raiders (5-4) square off against the Iowa State Cyclones (6-3) at Jones AT&T Stadium in Lubbock, Texas. (November 13th, 2021)
More From Fox Sports 1510