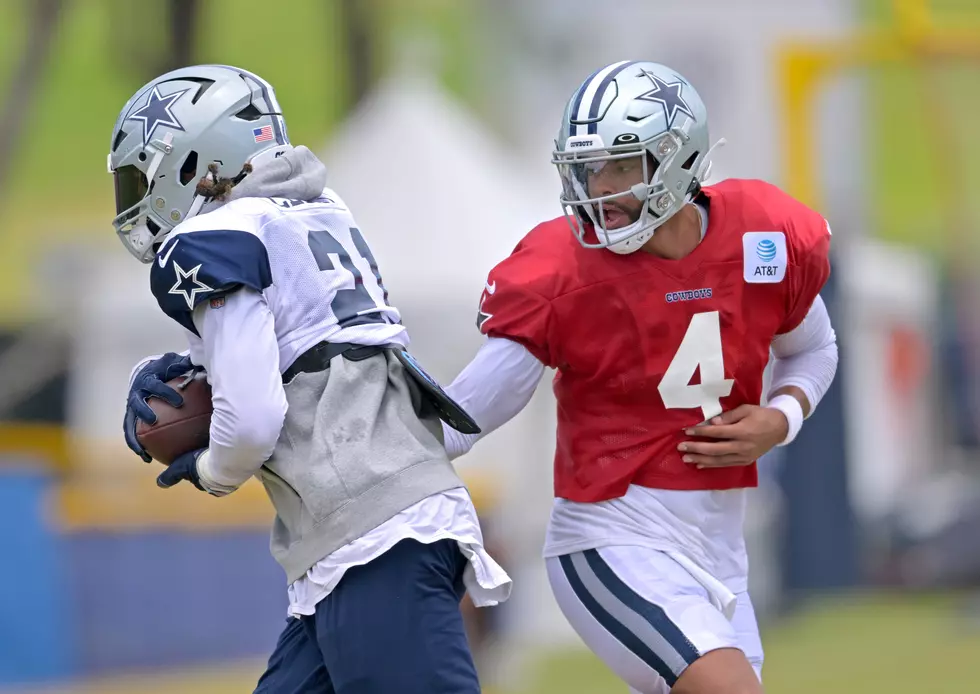 Watch Ezekiel Elliott Punish Chargers DB, Plus Other Highlights from Training Camp
Getty Images
The first preseason game for the Dallas Cowboys definitely didn't impress as the boys looked completely sloppy against the Denver Broncos. However, we are talking preseason here. So while many "fair weathered fans" are already starting to jump off the Cowboys bandwagon, there is some reason to be optimistic moving forward.
First off, the Cowboys did not play many of their stars in the first preseason game. In fact some, like Ezekiel Elliott, you won't see play all preseason long. So, we're not really seeing the whole package here. So, I'm not sure why some fans are already complaining. I mean, it's preseason people!
The Cowboys held their first of two joint practices with the Los Angeles Chargers this week ahead of their preseason game against them on Saturday, August 20th. Judging by some of these highlights from training camp, I think it's safe to say that the preseason will not reflect what we will see in the regular season.
Watch Ezekiel Elliott punish Chargers DB
Once again, you won't see him play in the preseason. Obviously, the dude still practices though. And by practice, I mean knocking helmets off of defenders.
That's a heck of a hit for training camp, right? Something tells me that wasn't even the full force. I think he's ready to eat!
Here's Micah Parsons, doing Micah Parsons things
In a real game, there is no doubt that Chargers QB, Justin Herbert, would have been hammered.
Check out Tarell Basham's acrobatic interception
He obviously has practiced the "tip drill".
Dak shows accuracy in pass to Dennis Houston
Obviously, you can't smack the quarterback around in practice so Dak doesn't have to worry about that. Still, he hit Houston in stride with a good pass that showed some zip and accuracy.
As the preseason rolls on, we'll get a better idea of how we're going to look for the upcoming season. But if some of these highlights are any indication of how our season is going to go, I think this could be our year...again.
LOOK: 11 of the Greatest Pass Rushers in Dallas Cowboys History
More From Fox Sports 1510