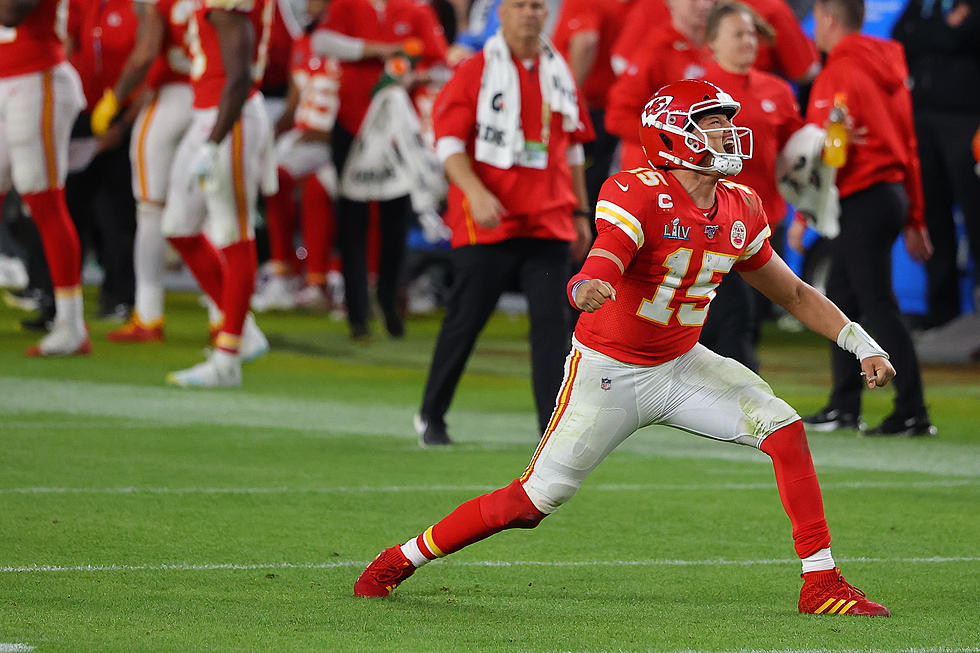 Patrick Mahomes Leads Chiefs to 1st Super Bowl Win in 50 Years
Ronald Martinez, Getty Images
Enter your number to get our free mobile app
The Chiefs just ended a 50-year Super Bowl drought, coming from behind to beat the San Francisco 49ers.
The Kansas City Chiefs got out to a 10-3 lead in the Super Bowl before the San Francisco 49ers took over. The 49ers tied it up at halftime, 10-10. The 49ers would score 10 points in the 3rd quarter to take a 20-10 lead. The Chiefs looked dead in the water, with Mahomes throwing his second interception of the game early in the 4th quarter.
The Chiefs' defense would make a pivotal stop. Then, Mahomes turned on the magic.
First, he'd lead an 83-yard drive that included a 44-yard pass to Tyreek Hill and ended in a Mahomes touchdown to Travis Kelce. That would cut the 49er's lead to 20-17.
The Chiefs' defense would stay hot, with a 3-and-out against the 49ers.
Mahomes kept flexing with a 7-play ,65-yard drive ending in a touchdown pass to Damian Williams and a 24-20 lead with 2:26 left on the clock.
The 49ers could not get anything else going, turning it over on downs and throwing an interception on their next two possessions. A Chiefs touchdown run in between made it 31-20.
Patrick Mahomes would close the game out with the ball in his hands.
The win gives the 24-year-old former Texas Tech QB his first Super Bowl ring.
More From Fox Sports 1510