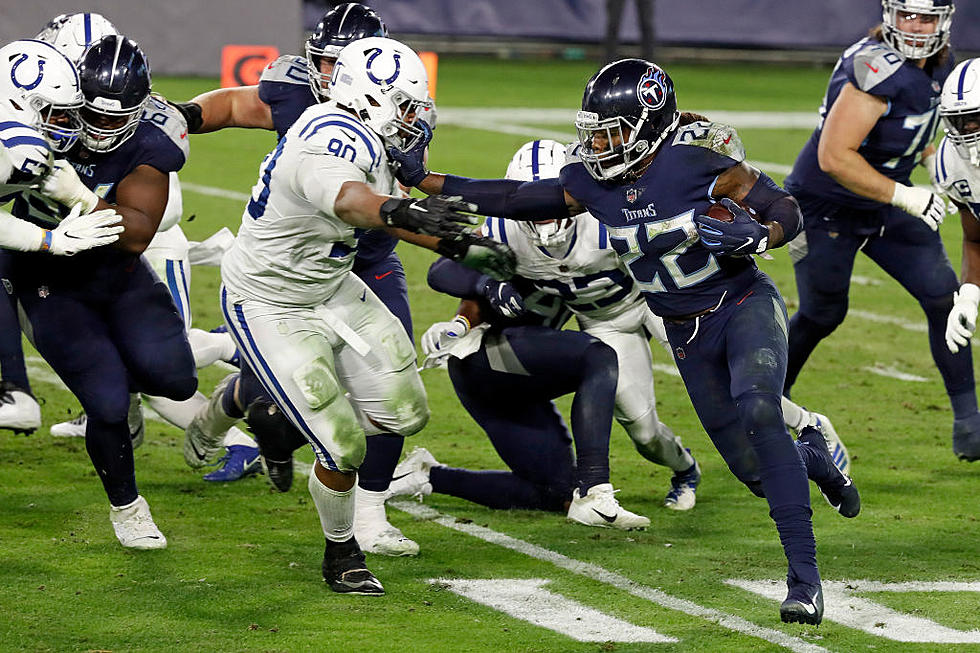 The King Might Have Played His Last Game for the Titans
Getty Images
The NFL is getting ready for an offseason for the ages. Just recently, Tom Brady, known as the greatest NFL player of all time, decided to retire from football. Multiple stars like Lamar Jackson will be testing free agency. Another thing NFL teams should be watching is the trade market. According to Michael Silver, former Alabama Heisman Trophy winner Derrick Henry has been involved in trade talks.
Henry now joins Aaron Rodgers, Jalen Ramsey, and DeAndre Hopkins as the prime candidates to be traded this offseason. Since being drafted by the Tennessee Titans in the 2016 NFL Draft, Henry has been the franchise cornerstone and the main reason for the Titans' recent success.
In seven NFL seasons, Henry has rushed for 8,335 yards and 78 touchdowns. He became the first player since LaDainian Tomlinson in 2001-02 to win back-to-back rushing titles in 2019-20. In 2020, Henry also became the eighth running back, and the first since Adrian Peterson in 2012, to rush for 2,000 yards in a season.
The main problem for the Titans, though, is helping him. Since drafting Henry, the Titans have been a run-heavy team that barely relies on the passing game. Even though they made the AFC Championship in 2019, the run-heavy offense of the Titans has not shown much team success. NFL defenses have decided to put eight players inside the box and force quarterback Ryan Tannehill to win the game.
Multiple teams will show interest in the two-time rushing leader. The two teams that make the most sense in trading for Henry are the Atlanta Falcons and the Buffalo Bills. The Falcons make sense because they have $56 million in cap space. Their head coach is former Titans offensive coordinator, Arthur Smith, and why not help second-year quarterback Desmond Ridder develop with one of the best running backs in the NFL
The Bills make sense because they are in a Super Bowl window that is closing fast. Josh Allen and the passing game have carried Buffalo, but could never get them over the hump. The main reason the Bills lost to the Bengals in the AFC Divisional round is that the Bills could not run the ball effectively. Adding Henry would give the Bills a run game they have never had and could provide help for Josh Allen.
Iconic Photos From Alabama's 18 National Championships
Claimed or recognized, no FBS football program has more national championships than the Tide. Look back on all 18 titles in Alabama history with these photos.
Alabama vs Auburn 2022
More From Fox Sports 1510