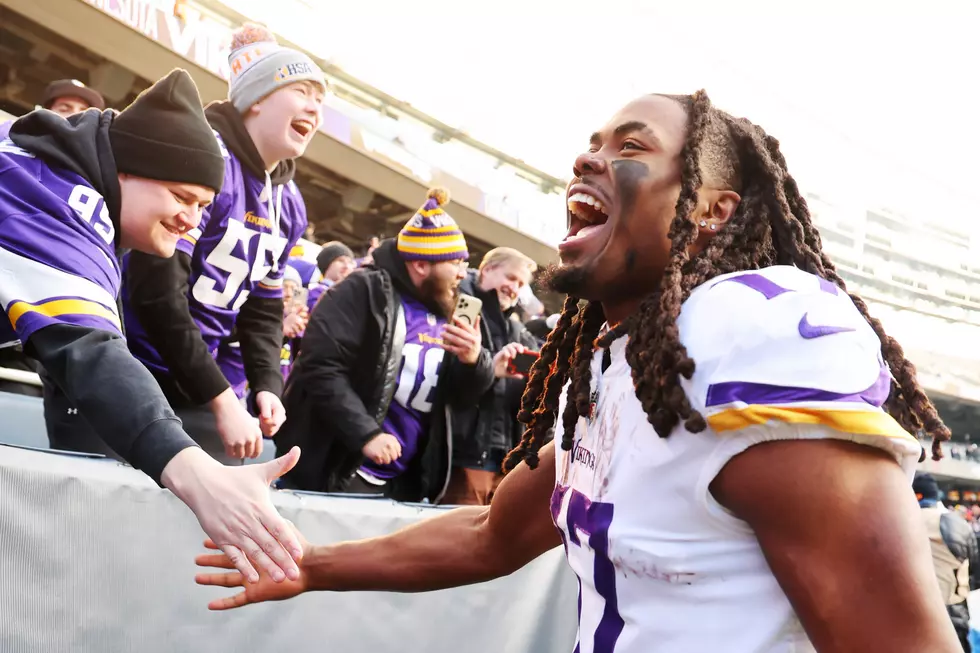 K.J. Osborn Has Big Day As Vikings Beat Bears In Finale
Getty Images
CHICAGO (AP) — With Justin Jefferson commanding his usual attention, K.J. Osborn stepped up for Minnesota.
The Vikings are hoping it's a sign of things to come.
Osborn had a game-high five catches for 117 yards during Sunday's 29-13 victory over the Chicago Bears, sending the NFC North champions into the playoffs on a high note. Osborn closed his third NFL season with 30 receptions for 388 yards and three touchdowns over his last five games.
"His role is an evolving thing, snap in and snap out," Vikings coach Kevin O'Connell said. "He's incredibly valuable as a play-caller to the coaches, but also to the 10 guys in the huddle knowing the different jobs he's going to do. When called upon, he's as explosive and reliable as anybody we have."
Minnesota has one of the league's best receivers in Jefferson, who had an NFL-high 128 receptions for 1,809 yards this season. But he might attract even more attention in the playoffs, forcing Kirk Cousins to take a closer look at some of his secondary options.
The Vikings (13-4) are going to need Osborn, Adam Thielen or tight end T.J. Hockenson to deliver when Jefferson is surrounded, and Osborn thinks they are ready for the challenge.
"Playing with, in my opinion, the best receiver in the league, and a vet in Adam Thielen, it's a lot of coverage. You know, we got T.J. It's all types of guys in our offense," Osborn said. "So any time I try to get my opportunity, I try to make the best of them."
Osborn helped Minnesota get off to a fast start in its season finale. He had a 66-yard reception on the team's first drive, setting up Thielen's 4-yard touchdown catch.
He had a 7-yard reception on a third-and-6 deep in Chicago territory in the second quarter, a drive that concluded with the first of two 1-yard TD runs by Alexander Mattison.
"What's been great about K.J.'s journey is the more we put on his plate, the more he shows he can handle it," Cousins said. "His rookie year, we didn't give him a big role. Last year, he started showing up more and more, sometimes on accident, where he's getting the ball and not expecting it and he's just making plays. Then this year, give him more, and he's handled it."
Osborn, who also had a 30-yard catch on Minnesota's final drive of the first half, was selected by the Vikings in the fifth round of the 2020 draft. He played sparingly as a rookie, but had 50 catches for 655 yards and seven TDs in his second year.
He got off to a slow start this season, but his strong finish upped his numbers to 60 grabs for 650 yards and five touchdowns.
"When he gets opportunities, watch out. He's a great football player and can really help this offense," Thielen said. "So we're going to need everything he's got next week and moving forward to go to where we want to go."
More From Fox Sports 1510