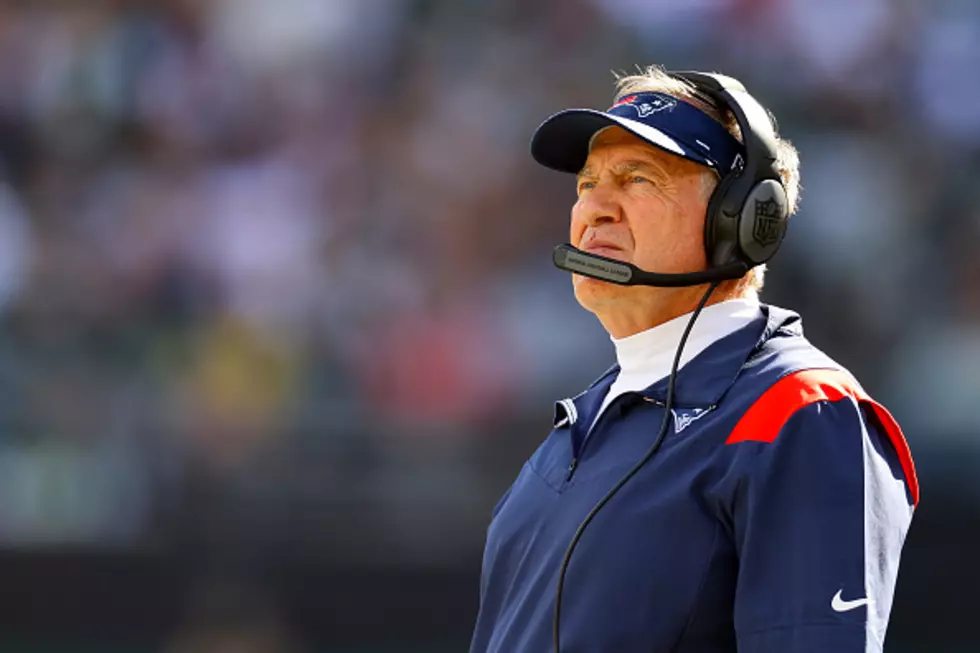 Belichick Stands Between New York Jets & The Playoffs
Getty Images
A victory on Sunday at Gillette Stadium, home of the New England Patriots, will put the New York Jets on top of the AFC East with seven wins. With triumphs over the Miami Dolphins and the Buffalo Bills, Robert Saleh and his "all gas, no brake" crew own the needed tie-breakers that have Jets fans salivating for a potential playoff birth. 2010 was the last time Gang Green visited the NFL tournament in January. Now, one man in particular is out to ruin those dreams, as he has many times before. Bill Belichick.
Belichick was hired to coach the New York Jets on January 3, 2000, replacing legendary head coach Bill Parcells. Belichick quit one-day later and has since terrorized Jets ownership, coaches, players and fans. His defense pretty much ruined the career of Jets first round draft pick Sam Darnold before it really started. He's trying to do the same to Zach Wilson this season.
However, there seems to be a different vibe to this year's New York Jets and that starts at the top. Tom Rock of newsday.com talked to the Jets head coach about why this year's team is not the "Same Old Jets." "I get it's the Patriots and I get it's big for the fans and some of the people upstairs in the business department, our ownership and all that stuff," Robert Saleh told Rock, "but for us as coaches, players, you've got to keep the main thing, the main thing. This is another championship opportunity versus another championship football team, and we've got to play at a championship level."
Saleh is spot on. This isn't about Belichick. He is terrific football coach but he is not a wizard. The Jets have not beaten the Patriots in seven years. That's not because Bill Belichick is some sort of genius. The Jets have stunk. They have had bad leadership and drafted poorly. The 2022 roster of NFL football players compiled by general manager Joe Douglas and Saleh is far better than any that they have had since 2015. With that said, it's time to put up or shut up about being a playoff team.
Reflecting back on the Jets last victory that came on December 27, 2015, Ring of Honor recipient on Sunday, cornerback Darrelle Revis told ESPN.com, "That was the stamp that said, 'We're here in this AFC conference, we're not going to be pushovers, we're ready to compete and contend." The same will happen with a victory on Sunday. Saleh told Tom Rock, "I truly believe we are a team that can make the playoffs." We'll see, as Bill Belichick stands in the way on Sunday.
New Yorkers Rank Their Five Best Thanksgiving Meal Side Dishes
It's not a Thanksgiving Day feast without "all the fixin's" on the side, and New Yorkers have ranked these five side dishes as the best to have with your turkey.
Look at The Dazzling Greenwich Holiday Lighted Tractor Parade Through the Years
Take a look at this amazing holiday tradition. This is the Greenwich Holiday Lighted Tractor Parade. It started in 2013 for locals to decorate their tractors and parade through town displaying the spirit of the holidays.
2 NY Barn Finds, 1 Location
1 Ferrari and 1 very rare Lamborghini!
More From Fox Sports 1510